FELTON, California
Take a tour of Felton and the surrounding areas of the San Lorenzo Valley here.
Felton, California is located south down Highway 9 just west of the popular Henry Cowell Redwoods State Park and minutes from Forest of Nisene Marks and Wilder Ranch State Park. The small community hosts tourists and travelers along the steam powered Roaring Camp Railroads tour through the Redwoods and is well-known for its one-lane covered bridge.
History and Recreation
Felton is an area that is popular for its history - including its railroad history. The town itself was named for John Brooks Felton, a major, judge, and investor from Oakland, California. Originally, the town was established to serve as a logging community and was an ideal location for the end of the Boulder Creek log flume. In 1841, the first water-powered sawmill was erected in Mount Hermon. There are two creeks that provide water to Felton: Ferndell Creek and Bean Creek.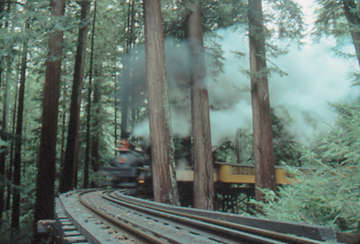 The Santa Cruz & Felton Railroad reshaped Felton when it arrived in 1875. Since 1963, the Roaring Camp & Big Trees railroad has operated out of Big Trees Ranch, which is located at the old Felton depot. The area is popular among tourists, as it hosts a recreated 1880's logging camp.
While Felton is and has always been a railroad community, long-distance travel to Felton by train is not possible; the nearest Amtrak station is six miles away in Santa Cruz.
Felton is also home to two popular tourist attractions: Capritaurus - an arts and crafts and folk music exhibition center - and the Big Foot Discovery Museum.
Education
Montessori School of the Redwoods is a private elementary and middle school located in Felton. Public schools are: San Lorenzo Valley Elementary, San Lorenzo Valley Middle School, San Lorenzo Valley High and River View High.
Demographics
Felton has a total area of just under one square mile, but is home to about 1, 000 residents. The average household income is about $52,000.