OCTOBER 2023
CA Insurance Commissioner Lara announces strategy to improve market conditions for consumers.
SACRAMENTO, Calif. - Insurance Commissioner Ricardo Lara announced a package of executive actions aimed at improving insurance choices and protecting Californians from increasing climate threats while addressing the long-term sustainability of the nation's largest insurance market. The largest insurance reform since state voters' passage of Proposition 103 nearly 35 years ago, California's Sustainable Insurance Strategy is a comprehensive approach building on Commissioner Lara's multi-year effort to modernize California's insurance market after meeting with thousands of Californians since he took office in 2019.
"We are at a major crossroads on insurance after multiple years of wildfires and storms intensified by the threat of climate change. I am taking immediate action to implement lasting changes that will make Californians safer through a stronger, sustainable insurance market," said Commissioner Lara. "The current system is not working for all Californians, and we must change course. I will continue to partner with all those who want to work toward real solutions."
Key regulatory elements of the plan include:
1. Executive action by Commissioner Lara to transition homeowners and businesses from the FAIR Plan back into the normal insurance market with commitments from insurance companies to cover all parts of California by writing no less than 85% of their statewide market share in high wildfire risk communities.
2. Giving FAIR Plan policyholders who comply with the new Safer from Wildfires regulation first priority for transition to the normal market, thus enhancing the state's overall wildfire safety efforts.
3. Expediting the Department's introduction of new rules for the review of climate catastrophe models that recognize the benefits of wildfire safety and mitigation actions at the state, local, and parcel levels.
4. Directing the FAIR Plan to further expand commercial coverage to $20 million per building to close insurance gaps for homeowners' associations and condominium developments to help meet the state's housing goals and to provide required coverage to other large businesses in the state.
5. Holding public meetings exploring incorporating California-only reinsurance costs into rate filings.
6. Improving rate filing procedures and timelines by enforcing the requirement for insurance companies to submit a complete rate filing, hiring additional Department staff to review rate applications and inform regulatory changes, and enacting intervenor reform to increase transparency and public participation in the process.
7. Increasing data reporting by the FAIR Plan to the Department, Legislature, and Governor to monitor progress toward reducing its policyholders: and
8. Ordering changes to the FAIR Plan to prevent it from going bankrupt in the case of an extraordinary catastrophic event, including building its reserves and financial safeguards. There is much more, so read the entire article here:
Record share of homebuyers relocating to places facing climate risk
According to Redfin, a record 26% of homebuyers are looking to move to a different part of the country. That's up from 24% a year ago and roughly 19% before the pandemic began. While homebuyers consider climate risk when deciding where to live, affordability is often a significant factor.
For instance, Sacramento faces severe hear risk, but it's the most popular destination for relocating homebuyers currently. The typical home in that metro area sells for $575,000, nearly a million dollars less than the typical home in San Francisco ($1,480,000), the most popular origin of buyers moving in. With a 7% mortgage rate roughly the average for August, the monthly payment for the median priced Sacramento home is $3,689, compared to $10,010 for the median priced San Francisco home.
After Sacramento, Las Vegas and three Florida metros-Orlando, North Port-Sarasota, and Tampa-are the most popular destinations for homebuyers looking to relocate. Those metros have a few things in common: They're more affordable than the most common origin of homebuyers moving in, and they face increasing climate risks. Sacramento and Las Vegas face severe heat risk, Orlando, North Port-Sarasota, Myrtle Beach and Cape Coral face extreme wind/hurricane risk, and Tampa and Cape Coral are at extreme risk of flooding.
Homebuyers are leaving San Francisco, New York, and Los Angeles more than any other metro in the country. That's based on net outflow, a measure of how many more Redfin users are looking to leave a metro than move in. It's typical for expensive job centers to top the list of places homebuyers are moving away from, as those people seek more affordable housing. Homebuyers leaving Los Angeles, for instance, are most commonly moving to Las Vegas, where homes are half the price.
C.A.R. Online Notary Bill Signed into Law
The California Association of Realtors (C.A.R.) supported measure SB 696 (Portantino), which will allow California notaries to offer remote online notarization (RON) services, was signed into law by Gov. Newsom over the weekend.
RON, which has been in use in most other states and was particularly useful for real estate practitioners and their clients during the pandemic, will help enable fully digital real estate closings, while also ensuring that the process has safeguards against fraud. This will provide REALTORS® and their clients with a notarization option that is efficient, flexible, and secure.
C.A.R. has strongly supported online notarization as long as it included proper safeguards and protections, and we have worked with stakeholders in recent years to make online notarization in California a reality. While C.A.R. had sponsored its own bill in this arena, SB 696 (Petrie-Norris), we also supported this bill and are happy that our efforts and support have helped ensure that online notarization is now in California.​​​
October 2023, California latest market data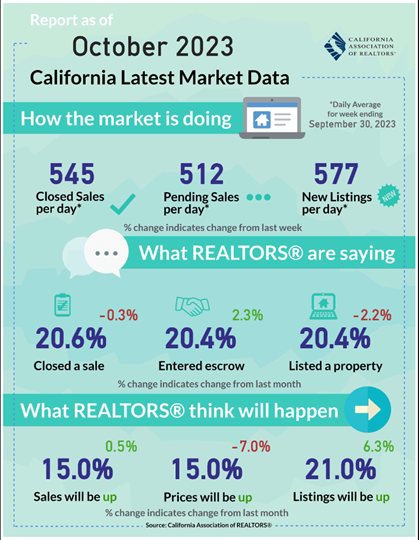 NHD Report: Disclosing disaster risk when selling a house.
When you're selling a house in California that resides in a natural hazard zone, you need to disclose that fact to your buyer with the natural hazard report, known officially as the Natural Hazard Disclosure (NHD) Statement.
A natural hazard zone refers to areas where homes are at greater risk for property damage or destruction by Mother Earth or Mother Nature. These risks include earthquakes, tornados, landslides, wildfires, volcanoes, hurricanes, tsunamis, and other natural disasters.
The Natural Hazard Disclosure Report (NHD) is a California-specific report that home sellers must complete for their buyers in order to sell a home in a natural hazard zone. This is required by state law in California for sellers to be in compliance with the 1998 Natural Hazard Disclosure Act.
There are six main natural hazards that must be disclosed in California's NHD report. They are:
1. Special flood zone areas
2. Area of potential flooding on a dam failure inundation map
3. Very high fire severity zone
4. Wildland areas with substantial forest fire risks
5. Earthquake fault zone
6. Seismic hazard zone

But that's not all that's in there. The NHD is an extensive report that covers a wide array of potential hazards beyond the main natural hazards, like homes located in flood zones or on earthquake fault lines. Read the full article and review maps here. 3rd Quarter 2023/2022 stats for Santa Cruz, Monterey & the Bay Area.

Comments: As many of you have read and head, the market has been slowing significantly due to many factors, namely interest rates. Once again, September 2023 shows a decline in new listings and sales. If you compare 2023 to 2022 we see what a difference a year makes. New listings for the third quarter in all three counties are lower year over year with a 4% decline in Santa Cruz, 22% in Monterey and 20% in Santa Clara County. Sales are similar with Santa Cruz down 11%, Monterey down 14% and Santa Clara down 16%. So how does that relate to prices? Wow, a 7% increase in Santa Cruz, 14% in Monterey and 6% increase in Santa Clara which is a direct correlation between lower inventories. Days on the market showed a 13% and 21% increase respectively in Santa Cruz and Monterey and a 43% decline in Santa Clara. The list to sales price ratio remained the same in Santa Cruz and Monterey with a 5% increase in Santa Clara. There are signs of more interest rate hikes still to come. I am concerned as is our National Economic Advisor for the entire industry. Home ownership is a vital part of our economy and it is being affected in more ways than just sales. (Display of MLS data is deemed reliable but is not guaranteed accurate by the MLS)