NOVEMBER 2023
Will home prices drop nationwide?
Will today's economy force down home prices in the future? Economists are divided. Moody's Analytics predicts a 10 percent decline in home prices "peak-to-trough" but anticipates mortgage rates to drop to 5.5 percent by 2024, assuming no recession. Goldman Sachs expects home prices to fall by 0.8 percent through December 2023 due to high mortgage rates and low inventory but projects a 3.4 percent increase in 2023 compared to the previous year. LPL Financial foresees only a modest decline in home prices by the end of the year, influenced by low inventory and affordability challenges for first-time buyers.
CoreLogic suggests that while prices may fall slightly in the coming months due to seasonality and rising rates, there will be an overall 3.7 percent increase in home prices in 2023 compared to 2022. Realtor.com expects home prices to remain strong throughout the year, driven by a robust labor market. Finally, the National Association of REALTORS predicts a slight 0.1 percent rise in the median home price to $386,700 for 2023 and a 0.7 percent increase to $389,500 in 2024, despite a drop in existing-home sales.
The number of cost-burdened renters reaches a record high
Renters are increasingly forced to allot a larger portion of their income toward housing expenses. According to data analysis released by Apartment List, the number of cost-burdened renter households surged by 1.9 million since 2019, resulting in a total of 21.8 million in 2022.
To meet the definition of "cost-burdened" or "severely cost-burdened," households must spend more than 30 percent and 50 percent, respectively, of their gross income on rent. Notably, the number of severely cost-burdened renters saw the greater increase of those two categories. Affordability challenges stem from the increase of rent prices outpacing that of income growth. While both saw upturns from 2019-2022, rent prices rose approximately 19 percent compared to the approximate 16 percent income increase.
​By The Numbers:
23 percent increase in rent prices from 2019-2022
1.9 million renter households have fallen into the cost-burdened category, since 2019
21.8 million renter households in the U.S. are considered cost-burdened, the highest number on record
56 % of California renters spending more than 30% of their income on rent, compared to ~52% nationally
74/100 of the largest U.S. metro areas have seen rent prices rise faster than incomes, since 2019
3/5 of the highest cost-burdened metros in the U.S. are located in California
4th in the nation is where California ranks amongst all states with the highest rent burden
California, at 56 percent, ranks fourth in the nation for states with the highest percentage of cost-burdened households, behind Florida (60.3 percent), Hawaii (57.8 percent), and Nevada (57.3 percent). Three of the top five metro areas with the highest percent of cost-burdened renters are located in the Golden State: Riverside (60.2 percent), Sacramento (59.1 percent), and San Diego (58.3 percent).
Almost 1/3 of home sales nationwide are new construction
In the third quarter of 2023, newly constructed homes in the United States accounted for a record-high 30.6 percent of single-family homes for sale. This increase is attributed to a rise in homebuilding activity and a decrease in existing homeowners listing their properties for sale, mainly due to mortgage rates reaching a 23-year high of approximately 8 percent. High mortgage rates have sidelined some potential buyers, while those still in the market are increasingly opting for new construction homes.
Builders are offering concessions such as mortgage rate buydowns to attract buyers, resulting in a 12.3 percent increase in purchases of new single-family homes. This competition with home sellers could potentially slow down new home construction, according to Redfin.
Study of housing underproduction scolds' Coastal metro areas
The California YIMBY Education Fund commissioned a study to analyze housing underproduction rates across the state, focusing on the impact of land-use regulations. The study used a "conversion rate" to compare historical housing permitting rates to potential market-feasible development opportunities in each city and county, assuming no zoning limitations.
Key findings found, in the absence of regulatory barriers, roughly 30% of the eight million addressable parcels in California could accommodate additional market-feasible units. However, various factors, including labor shortages, material supply chains, willing sellers and zoning regulations, resulted in a statewide annual conversion rate of less than 1% between 2018 and 2021.
The study identified significant variations in conversion rates among cities and counties, with some suburbs across the Bay Area and Southern California having low rates despite high housing demand. On the other hand, parts of the Central Valley and Inland Empire are converting market-feasible development opportunities into housing permits at relatively high rates. Examples of areas with high conversion rates include cities like Merced, Visalia, Stockton, and Bakersfield, as well as counties like Kern, Merced and Placer.
Santa Cruz County, Quarter 3 sales activity for single family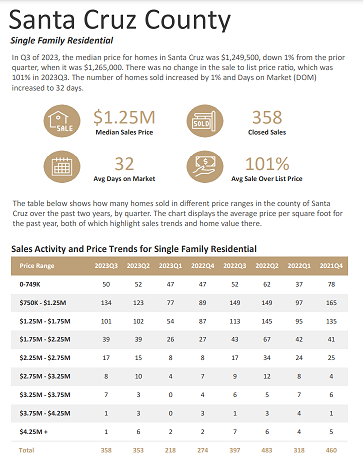 What is the Sitzer/Burnett v. National Association of REALTORS®
Many of you may have heard or read about the class action antitrust lawsuit filed in the federal court in Missouri. The plaintiff class includes home sellers in Missouri who sold their properties between April 29, 2015 and June 30, 2022 using one of four local multiple listing services ("MLSs"), where commission was offered from the listing agent to the buyer's agent. In 2019, the plaintiffs sued NAR and four large brokerages-Anywhere Real Estate (formerly Realogy), RE/MAX, Keller Wiliams Realty, and HomeServices of America.
Plaintiffs claim that the defendants conspired to keep real estate commission rates high in violation of antitrust law, and NAR's cooperative compensation rule (MLS rule about offers of compensation from the listing broker to the buyer's agent through the MLS) caused the sellers to pay too much in real estate commissions. On October 31, 2023, after an 11-day trial, the jury decided against the defendants and issued a verdict of nearly $1.8 billion. The case is not over yet because NAR, Keller Williams, and HomeServices of America have stated they will appeal. The two other defendants, Anywhere Real Estate and RE/MAX, settled before trial.
Although it's possible, there are factors that would probably make it more challenging to file a similar California action, including California laws that confirm the pro-consumer and competitive benefits of MLSs, in addition to the wide variety of broker business models which give consumers many choices and promote robust competition in the California real estate market. Having said that, the California Association of Realtors (C.A.R.) continues to express the fact that dedicated members are having open and transparent discussions with their clients about their compensation including the negotiability of real estate commissions and other types of broker compensation.
What should you know about the verdict or lawsuits?
1. The National Association of REALTORS® believes that the jury reached an outcome that is neither supported by the law nor the facts presented in the case and plans to appeal.
2. The trial had to do with a very pro-consumer rule for local Missouri MLS broker marketplaces where listing brokers make offers of compensation to buyer brokers who identify someone who wants to buy the sellers' home.
3. Those offers can be any amount, can vary over time, are based on things like service and the market, and are negotiable. Neither the buyer nor seller broker gets paid until the home sale and purchase close based on what the seller and buyer have agreed to in writing.
4. The offer of compensation practice ensures efficient, transparent and accessible marketplaces where sellers can sell their home for more and have their home seen by more buyers while buyers have more choices of homes and can afford representation.
5. Plaintiffs have said wealthy people could still afford representation without the practice, but that hardly seems fair. The National Association of REALTORS® is going to continue to advocate for this pro-consumer practice and, as noted, plans to appeal the jury's verdict.
6. Know that agents who are REALTORS® will still and always be there for clients to guide you through the financial, legal and community complexities of buying and selling a home.
7. The verdict doesn't change the many choices buyers and sellers have when deciding whether to hire a real estate agent who is a REALTOR®. Compensation will continue to be negotiable and set between a broker and their respective client, as it always has been.
If you have any further questions, or would like to discuss this personally with me, please do. I am available by text, email or phone at any time.
3-Yr October comparison for Santa Cruz, Monterey & the Bay Area
Comments: I always have found that October is the month to really assess statistics as far as what has happened in any given year and also just before the holiday turn down. New listings in all three counties decreased year over year and significantly in Monterey (40%) and Santa Clara County (29%). Sales reflect the same thing, a decrease in Santa Cruz by 33%, Monterey by 40% and Santa Clara by 40%. Then there are median prices and of course, with inventory declining, prices have risen year over year as we all know. 2021 has been purported to have been the super year after Covid, but as you can see Santa Cruz prices are up 11%, in Monterey very similar but in Santa Clara only up 6.8%. Days on the market are not much to discuss because they always relate to what is listed at any given time and if an agent priced it correctly. Still the only significant change is in Monterey and the city of Salinas seems to drive the higher number. The list to sales price ratio has declined county by county average and in Santa Cruz and Monterey now below 100%. (Display of MLS data is deemed reliable but is not guaranteed accurate by the MLS)