SEPTEMBER 2023
Homeowners say 5% is the magic number to make them move.
With the average rate for a 30-year, fixed-rate mortgage now above 7% many homeowners are reluctant to sell. At today's rates, most homeowners would need to finance a new home at a higher rate than the rate they currently hold, adding hundreds of dollars a month to their mortgage payment. That has created an incentive to stay where they are.
However, recent reports found that homeowners are nearly twice as willing to sell their home if their mortgage rate is 5% or higher, according to Zillow, and 71% of prospective home buyers who plan to purchase their next home with a mortgage said they would not accept a rate above 5.5% that is the "magic mortgage rate," according to a survey by John Burns Research & Consulting.
Why homeowners can't or won't move according to Yahoo Finance
One of the biggest problems in today's housing market is the inventory shortage, with demand far outstripping supply. Factoring into this problem is the fact that many homeowners don't want to give up the low interest rates they locked in with their current homes.
Ninety percent of U.S. homeowners with mortgages have an interest rate below 6%, according to a report from Redfin. Therefore, even those who want to move may feel stuck in place right now, knowing potential savings could be curbed by current towering rates.
Mortgage rates dip for the first time in six weeks:
After climbing consecutively for five straight weeks, the average 30-year-fixed rate mortgage reported weekly by Freddie Mac ticked down at the end of August but remained above 7%. News about a cooling job market, concerns about the slowing in consumer spending, and a downward revision on the second-quarter GDP all may have contributed to the declining trend in rates in the past week.
While the market generally believes that the Fed will keep their policy rate unchanged in the upcoming September meeting, mortgage rates remain elevated, and the volatility will likely continue until the Fed sends a more decisive message to the market about its next rate move. With costs of borrowing near their record high and housing supply expected to be tight for the remainder of the year, home sales could remain soft in the next couple months.
1 in 5 Millennials believe they'll never own a home
Nearly one of every five (18%) millennials and 12% of GenZers who replied to a recent housing survey believe they will never own a home.  That's according to a Redfin-commissioned survey conducted by Qualtrics in May and June 2023. The survey was fielded to 5,079 U.S. residents who either moved in the last year, plan to move in the next year, or rent their home.
Lack of affordability is the number-one barrier to homeownership for young Americans. Roughly half of GenZ and millennial renters who believe they're unlikely to purchase a home in the near future say the high price of homes on the market is blocking them from buying. That's the most commonly cited barrier, and it's followed by several other affordability-related reasons.
It has become much harder to afford a home since the pandemic began, especially for first-time homebuyers. Median home-sale prices are at record highs, up 40% since 2019. Wages have risen, too, but not as much: Average hourly earnings rose roughly 20% over the same period. Record-low mortgage rates and the increasing prevalence of remote work during 2020 and 2021 fueled intense homebuying demand, which drove prices up. Now, rising mortgage rates have exacerbated the expense of owning a home.
The worsening housing affordability crisis has an outsized impact on Gen Zers and millennials because they're much less likely to own a home than older generations. That means many young Americans don't benefit from rising home prices by gaining equity. Young Americans also cite investments as a way they'll fund down payments. Just over 20% of both Gen Zers and millennials plan to sell stock, and roughly 15% of both generations plan to sell cryptocurrency. Read the full article and review graphs here. https://www.businessinsider.com/california-to-pay-homeowners-to-build-adu-housing-shortage-2023-8
C.A.R. opposed ACA 13 and now ACA 13.3
C.A.R. OPPOSED ACA 13 (Ward), a proposed state constitutional amendment, which will significantly limit the ability of California's citizens to seek change through the initiative process by requiring more than just a simple majority of voters to pass certain initiatives.
C.A.R. opposed ACA 13 because it is makes it harder for citizens to achieve change through the initiative process and constrains the ability of the people to reign in the government's ability to modify, amend, or enact laws of high importance to the people such as increases in taxes or that affects other issues such as healthcare or civil rights.
ACA 13 passed on the Assembly floor and now has been sent to the Senate. Stay tuned!
Let's look at a local city and market...Pacific Grove.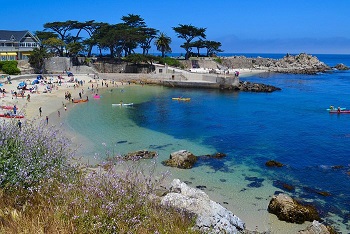 Pacific Grove is a coastal city in Monterey County, California, in the United States. The population at the 2020 census was 15,090. Pacific Grove is located between Point Pinos and Monterey. Pacific Grove has numerous Victorian-era houses, some of which have been turned into bed-and-breakfast inns.
Pacific Grove was founded in 1875, when David Jacks sold the land to the Pacific Improvement Company, which donated acreage towards the first West Coast Chautauqua retreat formed by a group of Methodists who modeled the town after Ocean Grove, New Jersey. In time, the butterflies, fragrant pines, and fresh sea air brought others to the Pacific Grove Retreat to rest and meditate.
Pacific Grove was the last dry town in California. Due to the city's religious and gated history, alcohol was not served to the public until July 4, 1969, at the grand opening of the Pacific Grove Art Center by ElMarie Dyke, its founder. This caused much controversy because the law was not to take effect until November of that year. Ironically, ElMarie was also a great proponent for keeping the town dry. To this day, Pacific Grove has very strict laws regarding the service of alcohol and has no stand-alone bars.
Over 1300 structures were listed on the town's historic register, giving Pacific Grove the largest number of historic homes and structures for its size on the West Coast. Tune in next month where I will preview another city. Any suggestions?
July/Aug 2023 stats for Santa Cruz, Monterey & the Bay Area
Comments: We see a little increase from July in new listings, those in escrow and sold.  As for median price, close to a 20% decline in SZC County and almost 16% in Monterey. As per usual, a slight increase in Santa Clara. Days on the market declined all around. The list to sales price ratio did not change measurably which is surprising since the median prices declined. The fall should bring some significant changes as per usual. Hopefully the FED won't raise rates. (Display of MLS data is deemed reliable but is not guaranteed accurate by the MLS)